Of all the Millennium Development Goals (MDGs) that finish this year, the sanitation target is one of the furthest off track. One in three people still lack sanitation worldwide, with India accounting for nearly 600 million of the one billion people in the world with no toilet. One hundred million people in India don't have access to safe water; one only has to go to a slum or an unauthorized colony in the peak of summer to hear the woes and cries of residents complaining of no supply of tap water for weeks at times.
International aid agencies such as WaterAid and the Gates Foundation continue to lobby political leaders to secure greater prioritization of clean water, basic sanitation and hygiene. Some success was achieved when at the Sustainable Development Summit, Global Goals were adopted with Goal 6 dedicated to water and sanitation: "Ensuring the availability and sustainable management of water and sanitation for all." The inclusion of Goal 6 is a major milestone as it commits UN member states to delivering basic access to water, sanitation and hygiene to everyone everywhere by 2030.
Despite this success, cities and organizations face major hurdles in implementation. Low political polarization, lack of active participation from various stakeholders, negligent behavior, and addressing the issue with blanket solutions are few of the key challenges that prevent from translating goals into practice.
The first step is for them to be adopted into national development policies. Fortunately Narendra Modi, India's prime minister, says that building toilets is a priority over temples. His finance minister, Arun Jaitley, allocated a budget to end defecation in the open by 2019. The launch of Swachh Bharat Abhiyan (Clean India Initiative) and support of political parties have created momentum and surged construction of toilets at great speed. But as stated above, India's sanitation crisis needs more than toilets. It requires rethinking the current models of sanitation facilities and designing a new programmatic infrastructure and physical structure that instills a sense of dignity while addressing issues affecting sanitation practices in India.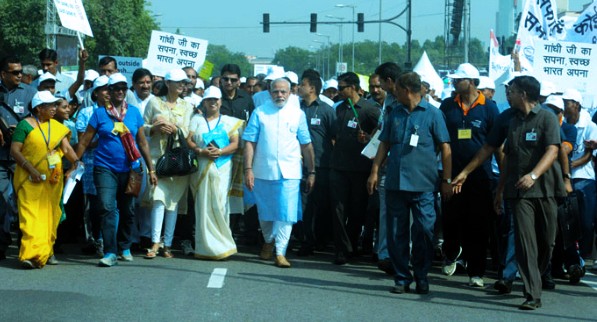 One example of such program is Project Sammaan, an initiative dedicated to re-designing and improving sanitation facilities to slum communities across India, beginning in Bhubaneshwar and Cuttack. The team constitutes of seemingly disparate entities, working in design, government, and empirical research, making the project a truly unique innovation effort. It includesQuicksand Design for user-centered design principles, the Abdul Latif Jameel Poverty Action Lab for empirical research, government bodies such as the National Buildings Construction Corporation for construction, and CTRAN Consulting for liaising with the government.
The project is funded by Gates Foundation and was born out of the research Quicksand undertook as part of the Potty Project, an in-depth research study focused on understanding three things: 1. the end-user experience at community toilet facilities within urban slums in India; 2. end-user perceptions, attitudes, and mental models around sanitation and hygiene; 3. the supply side aspects of community sanitation in slums including things such as pricing, operations & maintenance, caretaking, and business models.
We need more of these projects that through in-depth design research, imaginative designs and behavioral change communication, promote cultural change. They are necessary to ensure that money allocated by the government and various international aid agencies is well spent and help end India's sanitation crisis.